Guinness World Record: "The longest walk by a passive biped robot"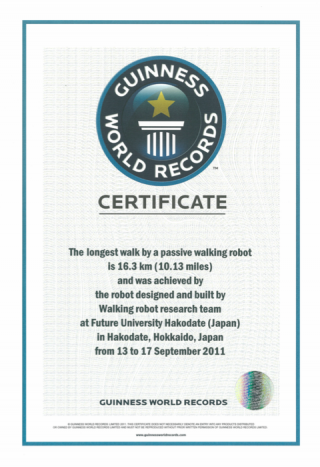 A biped walking robot developed by Professor Sadayoshi Mikami's laboratory walked continuously on an angled conveyor belt (running machine) for 100 hours without a power source in the Guinness record challenge (the robot should walk without power and only by its own balance and weight shift) and was awarded a Guinness World Record.
---
"Zusshi-i Hokki-i" mascot character receives appreciation of Hokuto City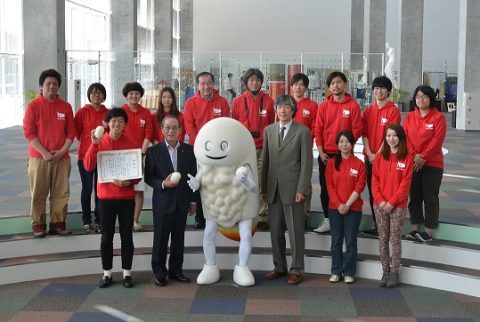 A team of students called "Hoctory" created a unique local mascot character called "Zusshi-i Hokki-i" as part of their Project Learning. The character achieved acclaim, and a letter of app reciation was received from the mayor of Hokuto City. Thanks to extensive media coverage, the PR value of "Zusshi-i Hokki-I" for the promotion of tourism in Hokuto City was very significant. The charms and attractions of Hokuto became known all over Japan.
---
Professor Hiroyuki Takamura awarded "the 5th Hukuhara Prize"
Professor Hiroyuki Takamura of the Department of Complex and Intelligent Systems received "the 5th Hukuhara prize" from the Mathematical Society of Japan for his outstanding contribution to the development of "The Division of Functional Equations" with his research on "Blow-up 
of solutions to semilinear wave equations". The Hukuhara prize is a prestigious award presented only to those who make significant discoveries.
http://www.math.kobe-u.ac.jp/dfe/index-e.html
---
Science Festival receives commendation from Japanese Government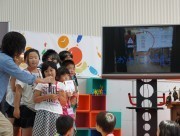 A group led by Professor Noyuri Mima of the Department of Media Architecture and Special Researcher Shosaku Kanamori was recognized for its work in creating a science festival in Hakodate. They received a commendation for "Regional Activities for the Understanding of Science and Technology" from the Minister of Education, Culture, Sports and Technology. The group that took the initiative for this project also included the renowned science demonstrator and teacher Yoshiteru Watanabe, and Shuji Honmura of the National Institute of Technology, Hakodate College.
---
"IKABO" robot squid goes viral, boosts Hakodate image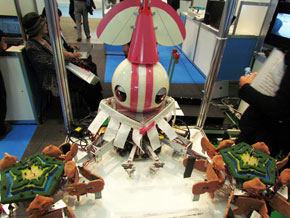 "IKABO" is a large project promoted by Hakodate's Tourism Promotion Committee in collaboration with our University and also industry. Several generations of squid robots have been created by the project and their appearances at countless PR events and in the media have helped to cement Hakodate's reputation as "The City of the Squid". IKABO was central in the video "Hakodate Tourist Information-– Raid of the Ikaru Seijin", which became a viral hit, with hundreds of thousands of views. Development of "IKABO" is one of the topics that students can select for their 3rd year Project Learning study, under the tutelage of Prof Hidekatsu Yanagi of the Department of Media Architecture and Prof Hitoshi Matsubara of the Department of Complex and Intelligent Systems.